Hoists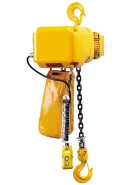 Hoists for most situations are available: Electric Chain Hoists, Wire Rope Hoists, Air Hoists, and Hand Operated Hoists. Capacities for Hoists range from ¼-Ton up to 6-Ton. We carry Plain Trolleys and Motorized Trolleys for exact positioning of hoists and loads.
To use along with our Hoists, we also offer Monorail and Crane Systems for precise, efficient, and safe handling of your loads.
Please call 562-634-5410 for questions about the different Hoists available.
---
Imperial Conveyor & Engineering
15124 Downey Ave.
P.O. Box 108
Paramount CA, 90723 USA
Ph: 562-634-5410 Fax: 562-634-5465
sales@imperialconveyor.com